JAGEL Again
JAGEL Again
Soft Japanese Bagel
(dream001c.jpg)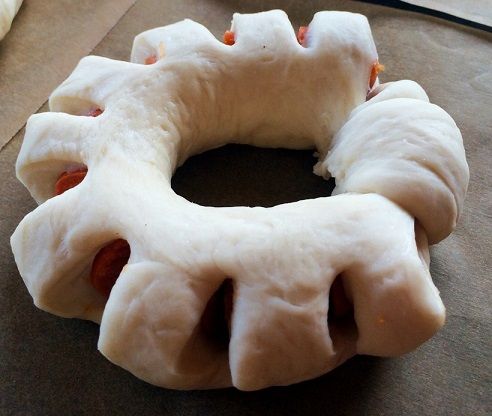 (bagel701.jpg)
(down11.gif)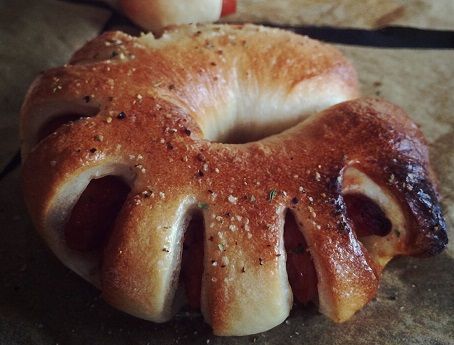 (bagel700.jpg)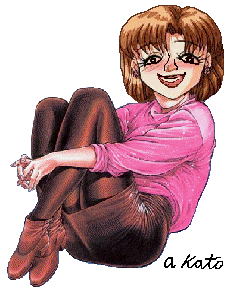 (yen0201.gif)
Hi, my name is Mari.
I'm a baker and baking soft Japanese bagels
Have you ever been to a bakery for fresh produce and the irresistible aroma of newly baked bread?
I guess you have.
But have you ever imagined about the daily life of a baker?
I guess NOT.
Well, for the average baker, the day starts bright and early.
Bakers are often up before 4 AM.
You're probably in a sound sleep at this time.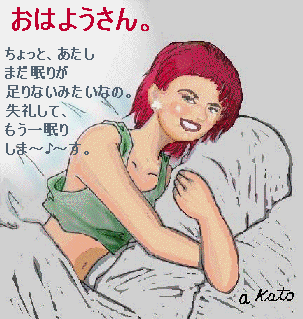 (sleepgal.gif)
While you're dreaming, I drive to my bagel shop.
It's still pitch-black outside, but such is the life of a morning-shift baker at a bagel shop called "Bagel de Paris."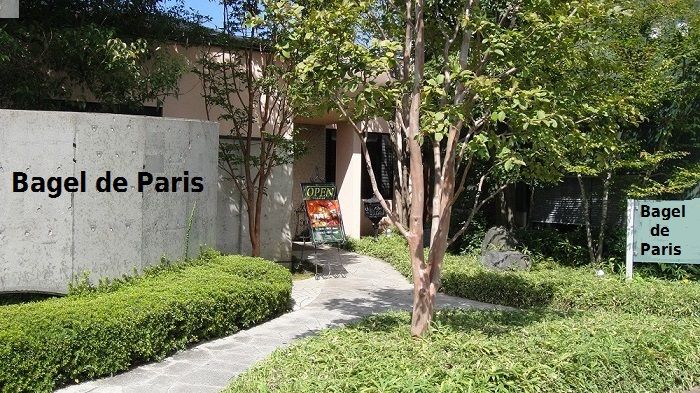 (bagelshp1.jpg)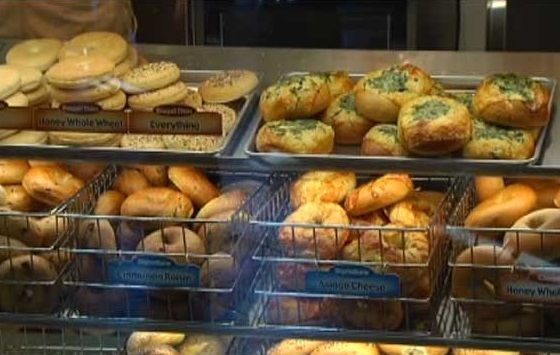 (bagelshp2.jpg)
I start preparing the day's bagels by 5 AM.
Picking my epron off hook, I chek my name on the bagelry's task list.
It's the wee hours of the morning, so the list is geared towards producing all the fresh baked goods patrons are going to want with their morning lattes, cappuccinos, and other fancy drinks.
Although I bake cinnamon rolls, croissants, and Danishes, in addition to the artisanal grains like Italian Rosemary and Kalamata Olive that are staples at a typical bakery, I specialize in baking bagels at my shop.
First thing on my list is to prepare the bagel dough.
Though my shop in Japan was a relatively small operation, it sometimes seemed to me that I would spend my entire life around dough.
I kneaded it, smelled it, touched it, tasted it.
And when I was really bored, I even talked to it.
Dough and I had some really great conversations over the years.
But with only a couple hours before the bagelry opens for the day, I don't have much time to talk to dough, today.
Instead, I heads to the huge industrial fridge to grab a bottle of milk.
It needs to be heated until it's warm, but there's no need to use the microwave.
The oven has been going for a while now, and it's quite hot in the kitchen.
It should take just a few minutes for the milk to be warm.
In a bagel shop, there's no such thing as a free moment to wait around for something to finish, not when there are dozens and dozens of cinnamon rolls to be prepped.
In the meantime, I heads back to the main kitchen area in order to begin the dough for the bagels.
For most other people, dough is just an unfinished product.
I know, however, that dough is the make-or-break, be-all and end-all of any bakery.
There's a reason only experienced bakers are trusted with the task of making dough.
Meanwhile, interns and trainees are assigned things like cutting out cookies and rolling up the rugelach.
That's just arts and crafts class.
But dough?
That's where the magic happens.
A seasoned baker should definitely have enough experiences to make it happen.
And I think I should be able to make it happen because I've been making dough for more than six years.
At 6 AM, the other bakers and I start loading the prepped, not yet baked goods into the industrial ovens.
The ultimate goal is to have the bagels baked and on the shelves by 6:45 AM, so that it's warm and soft for the early-bird patrons to step through the door at 7 AM.
My first shift is done, and now I have a 30-minute break before starting the second, early-afternoon shift.
As I takes off my apron, I watch the business people in their suits rush through the door, grab their coffees and bagels, and rush out the door again in a hurry to get to their desk jobs.
I seldom talk to these customers, and most of them don't even know I exist.
But they love my bagels.
They say here in Vancouver, "Bagels are so hard to eat!"
But my bagels are soft, chewy and yummy!
The bagels I've baked recently are as follows: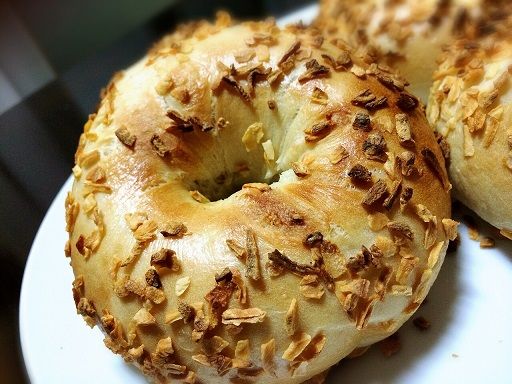 (bagel702.jpg)
(yen0203.gif)
This is a soft onion bagel.
Using this bagel, I've made it into a fried-oyster bagel sandwitch.
(bagel703.jpg)
If you want to know how to make it, please take a look at the following article in my own blog: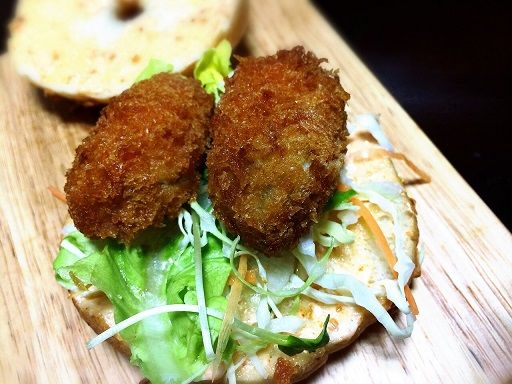 (bagel704.jpg)
■
"Fried Oyster Bagels"
(yen0203.gif)
The next bagel is a "bagel pizza"---my own creation.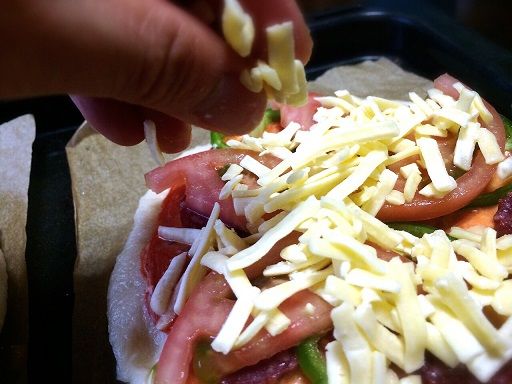 (bagel705.jpg)
(down11.gif)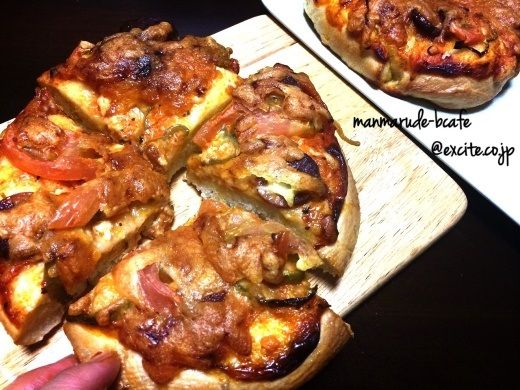 (bagel706.jpg)
It is soft yet crispy and, of course, yummy!
How do you make it?---you may ask.
Well... take a look at the following article: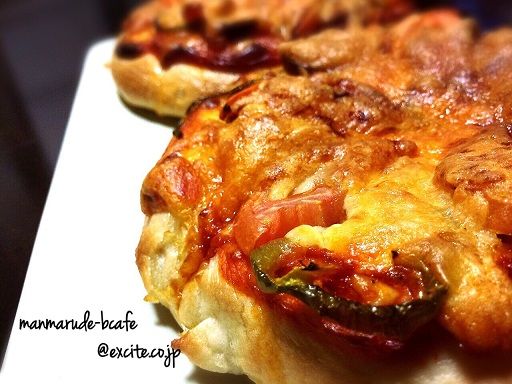 (bagel707.jpg)
■
"How to make bagel pizza"
(yen0203.gif)
You might as well bake your own kind of bagel pizza with your favorite topping.
One of my favorites is the following Croque-Monsieur-style bagel.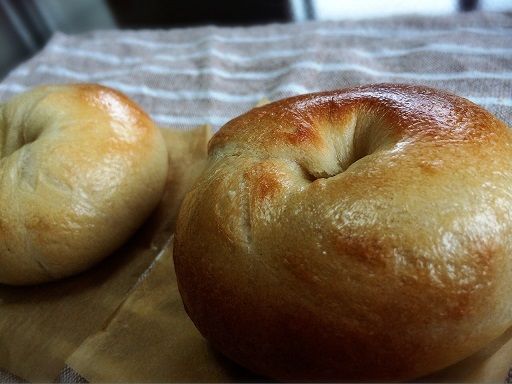 (bagel708.jpg)
(down11.gif)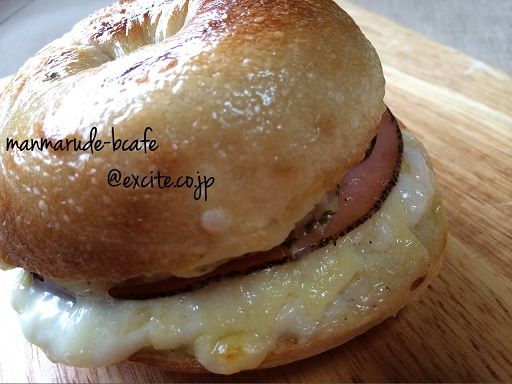 (bagel709.jpg)
It looks delicious!---don't you think?
If you want to know its recipe, please take a look at the following article: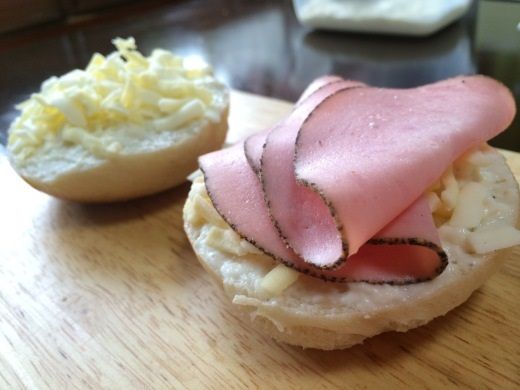 (bagel710.jpg)
■
"Croque-Monsieur-style bagel"
(yen0203.gif)
I don't think you've ever heard of "JAGEL" as a kind of bagel.
If you search on GOOGLE, you may see the following results.

(gog50309a.png)
■
【Search Results at the present】
(yen0203.gif)
About 401,000 hits are too mnay, but none of the results match the "JAGEL" which I've just coined for "soft Japanese bagel."
Jagel might mean many things, one of which is a name for a German town in the district of Schleswig-Flensburg as shown in "Wikipedia".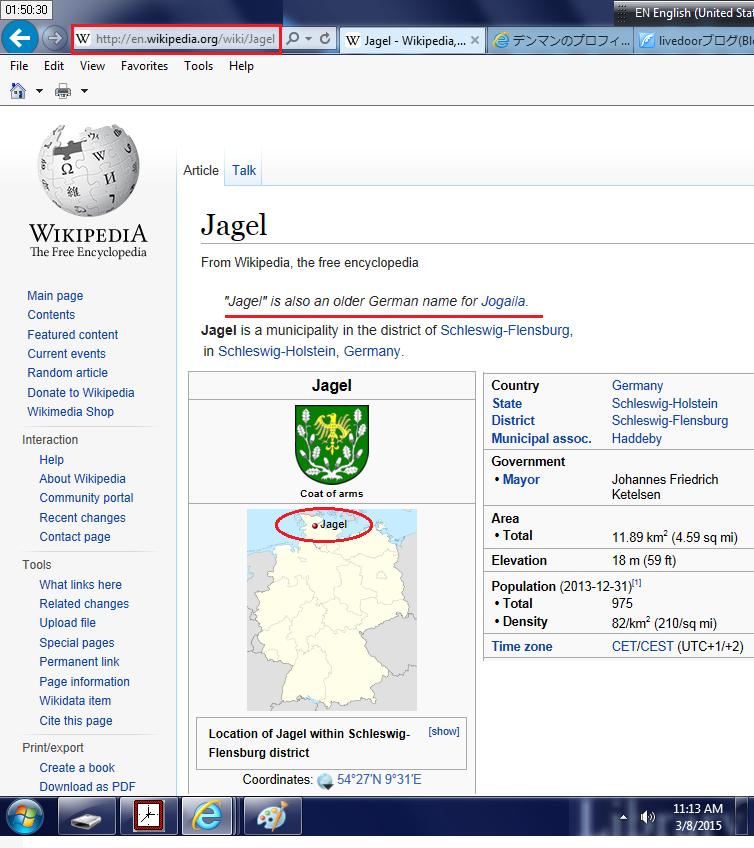 (wikijagel.png)
■
"Enlarge"
(yen0203.gif)
Why did I coin the word?
Well ... Spreading the taste of "New Japan"---soft Japanese bagels or JAGELS is my dream.
I've got another big, big, big dream.
Some day, I'd like to own and operate a chain of bagel shops called "JAGEL" all over the world.
When I was a small girl, living in Vancouver was a dream simply because Uncle Denman and kayo-chan, one of my girl-cousins, lived in Vamcouver and my relatives talked to me about both of them.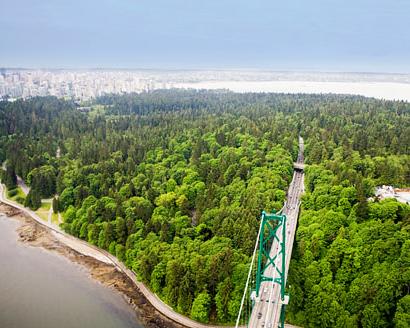 (stanley50.jpg)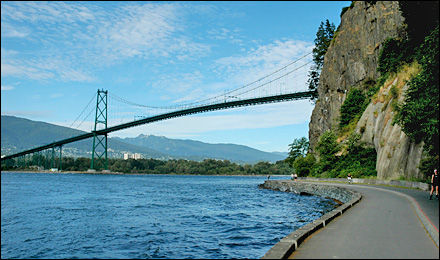 (seawall3.jpg)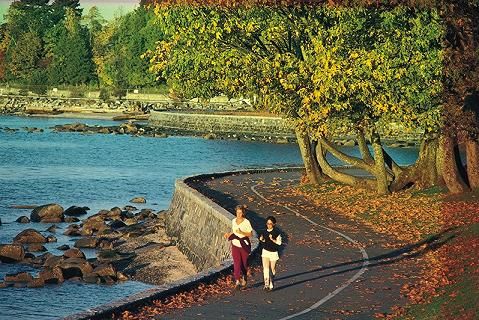 (seawall2.jpg)
Beautiful Vancouver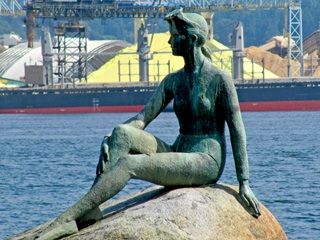 (wetsuit.jpg)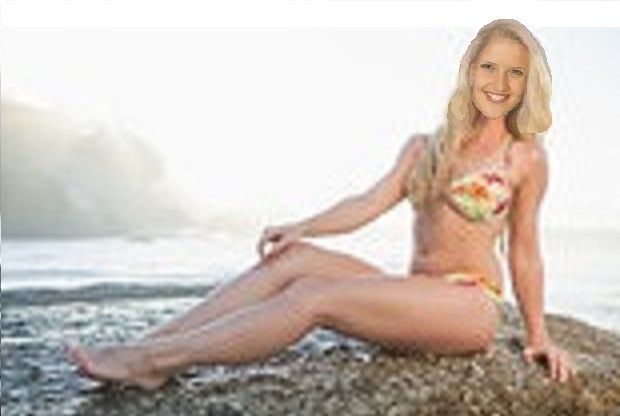 (wetsuit3.jpg)
(gastown20.jpg)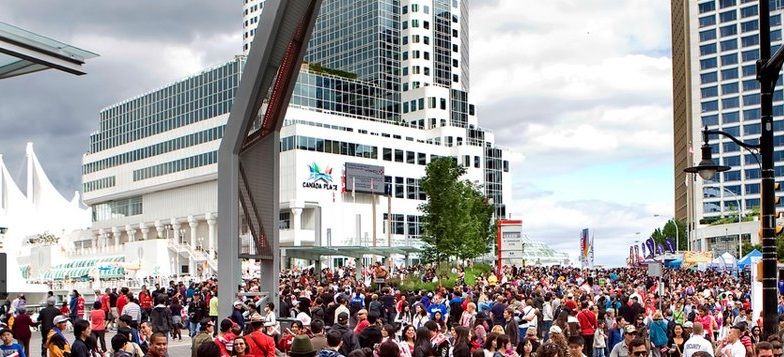 (canplace22.jpg)
(yen0203.gif)
I'm now living in North Vancouver with a Japanese Canadian family.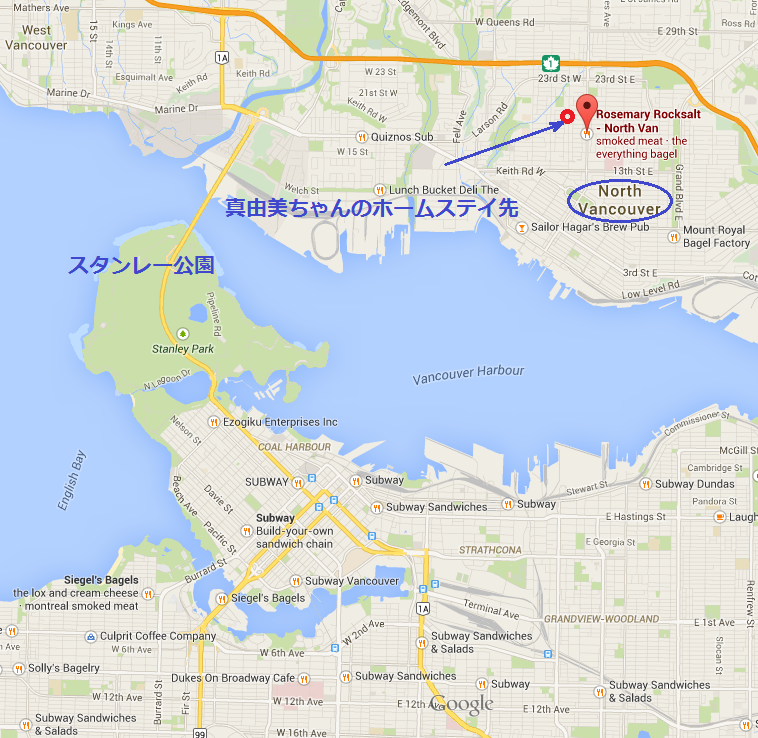 (nvancmap1.png)
■
"Enlarge"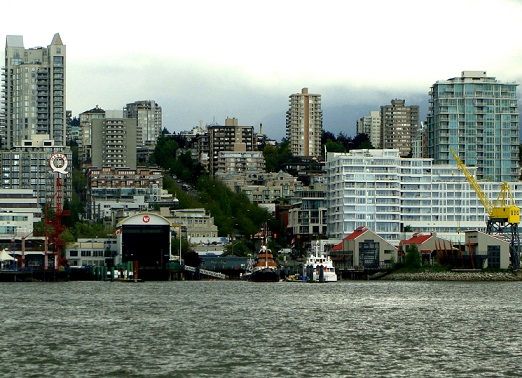 (nvanc001.jpg)
North Vancouver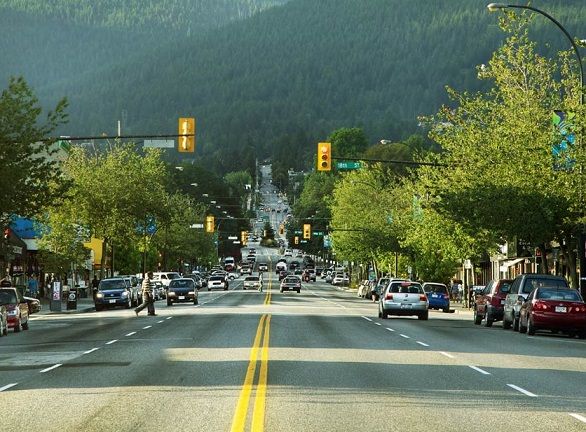 (nvanc002.jpg)
Lonsdale Avenue
(yen0203.gif)
Now I love and enjoy every minute of the day here in North Vancouver.
Auntie Karen loves my soft, chewy and yummy bagels.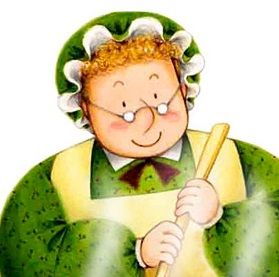 (karen03.jpg)
She once ejaculated, "Oh, Mari, this is one of the best bagels I've ever tasted in my whole life."
I've been here in North Vancouver for 2 months now, and am looking for a job as baker.
The problem is I don't have a work permit nor a permanent resident card.
I've heard that I might get a job offer more easily in the North than in Vancouver.
So, if you're a bagel shop owner or a cafeteria manager in Yukon, Alberta, North West Territories, or Northern Ontario and willing to sponsor me and help me get a visa, I would be more than happy to talk with you.
Please contact me at barclay1720@gmail.com
I really wish that you will take a bite on my jagel some day.
Now, talking about my work at the shop, just before 12 PM, the kitchen is given a thorough clean in preparation for the lunchtime rush.
Hygiene is of crucial importance in a kitchen, so dishes and utensils are also cleaned.
The afternoon is spent preparing ingredients and products for the next day, freezing selected stock and cleaning the kitchen again!
Due to the flexibility of working in bakery, taking a break is generally a matter of preference.
Bakery employees normally get two 15 minutes breaks during the day, plus an hour for lunch.
Bakers also have to be fit and strong because those heavy bags of flour don't lift themselves!
And don't be fooled into thinking bakers get to work in a nice warm, oven-heated environment all day.
They have to make frequent trips to the freezers to store products or retrieve ingredients, which might be refreshing in the summer, but it's not so nice on a crisp, cold winter's day!
As you can see, bakery life is a hard, but it's varied, it's sociable.
And, let's not forget, you get to work with delicious bakery goodies---especially bagels I baked for you.
What a tasty job!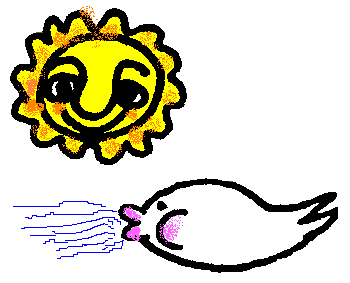 (sunwind2.gif)

(kato3.gif)

How's your job hunting, Mari?




I'm still struggling, Uncle Denman.  It's so hard to land a job without a work permit nor a permanent resident card.

I know... I know... Even with a permanent resident visa or a landed immigrant visa, it was terribly hard for me to find a job when I came to Canada a couple of decades ago.

Was it?  So how did you cope with that difficulty?

Well... I couldn't find a job for the first 6 months.

Why not?

'Cause I was mainly working in Japan as a computer programmer-analyst in the field of science---not commerece.  At the time I was looking for a job in Toronto, there weren't many job openings in the field of science.  So, I decided to study at Centennial College to brush up my English as well as to obtain some accounting knowledge.

When did you land a job?

After studying at the college for three years.

I see... but in my case, I don't have enough financial resources, that is, not enough money to pay my tuition for that long.

The best bet is, Mari, you try to find a job as baker in the North---such as Yukon Territory, Alberta Province, or Northwest Territories.  Not many people want to work in those northern regions because of the extreme coldness during the winter.  So go to North Vancouver Library and read the employment section of local newspapers in the North.

Then what am I supposed to do?

Chances are, Mari, the manager of the cafeteria of a mining company is desperately looking for a baker to replace the leaving worker.

But I don't have a work permit nor a permanent resident card.

Well... for example, there is a program called "Yukon Nominee Program (YNP)", which is developed to allow the Government of Yukon to nominate potential immigrants based on industrial and economic priorities and labour market conditions.

Is that program any good to me?

Yes, of course, you're categorized as a "skilled worker."  In the above program, once you're admitted as a qualified individual, then the government will help you obtain a visa.

I see.

But the first thing you have to do, Mari, is to find a prospective employer who desperately looks for a baker in Yukon.

Uncle Denman, do you think I'll be able to find such an employer?

Well... don't worry too much, Mari... I think you'll find one sooner or later.

How come you're saing that?

'Cause the article called "JAGEL" I posted on March 9 is read by many people as shopwn in the following list.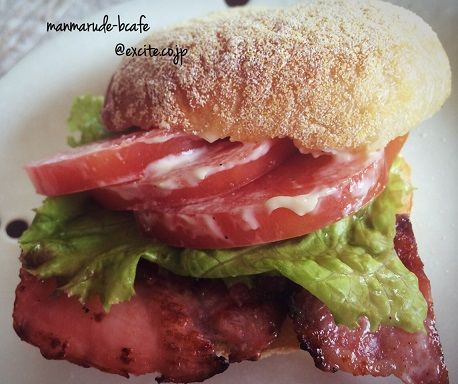 (jagel001.jpg)

■"JAGEL"




(ame50314d.png)

■"Enlarge"




As you see, Mari, "JAGEL" is read by 112 Net citizens for the week from March 8 to March 14---top of the list except for the RSS feed and the home page.




I see...

Chances are, one of these days, a prospective employer will contact you at barclay1720@gmail.com

I really hope so.

【Denman's Monologue】
(kato3.gif)
Oh, yeeeesss!
Mari's bagels are so soft, chewy and yummy---far from hard traditional bagels.
She was born and brought up in Japan.
She has 8-year experiences as baker in Japan.
Mari has now settled in North Vancouver and enjoys Canadian life to the hilt.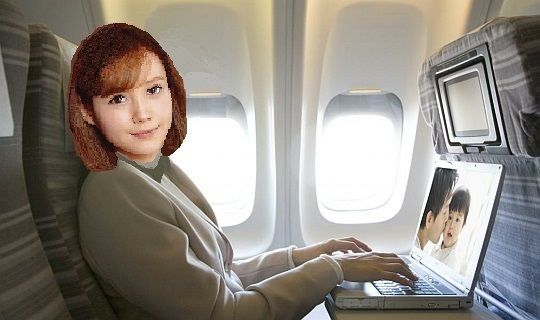 (inflight2.jpg)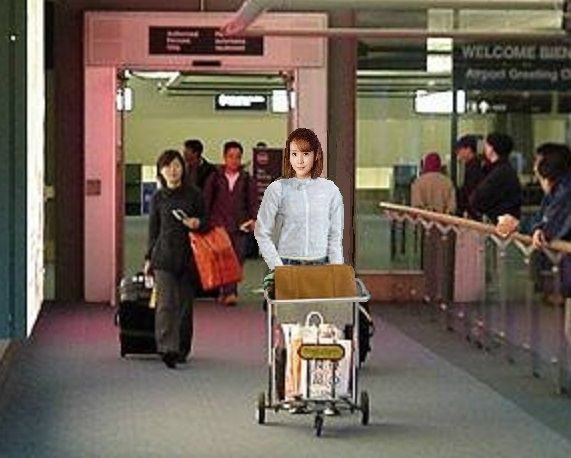 (airport1b.jpg)
She is one of the most hardworking, cheerful and good-natured women I've ever known in my life.
Mari has excellent people skills and gets along well with almost everyone and she has no trouble getting to know new people.
She used to work in a fun-loving, friendly, well-organized bagelry, and wish to work in the same work environment.
If you give her an opportunity to bake her jagels, I'd really appreciate it.
Thank you for reading my monologue.
(hand.gif)
If you've got some time,
Please read one of the following artciles:
(juneswim.jpg)
■
"Go Bananas"
■
"Manwatching"
■
"Stanley Boardwalk"
■
"With Your Tiger"
■
"A Second World"
■
"Asexual Thought"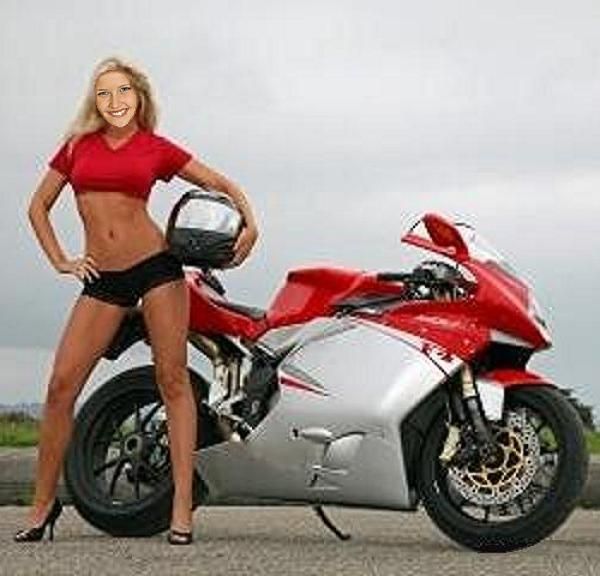 (biker302.jpg)
■
"Stanley 125 Years"
■
"Sushi @ the Globe"
■
"Peace@Syria & Pentagon"
■
"Sweet Memory"
■
"Unforgettable Movies"
■
"Typhoon 26"
■
"Great Luck"
■
"Diane@World"
■
"Diane@Spam"
■
"Sabina"
■
"Happy New Year"
■
"Merange & Sabina"
■
"Beauty in Spa"
■
"Love @ e-reading"
■
"Troublesome Slang"
■
"World Family"
■
"My Name is Mayumi"
■
"Mayumi's Bagels"
■
"Mozzarell & smoked chicken

Bagel Sandwich"
■
"Bagels@Granville Island"
■
"Matcha Bagels"
■
"Scones & Puddings"
■
"Lox and Bagels"
■
"Oyster Bagel Sandwich"
■
"JAGEL"

(surfin2.gif)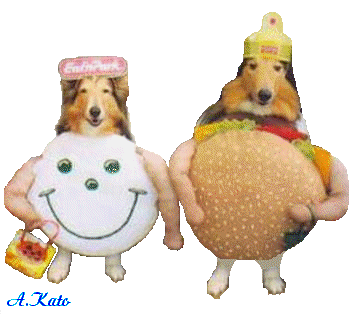 (dogs17.gif)

(girlxx.gif)
スポンサーサイト